Aleksandra Demowska-Madejska
Violist, producer and social activist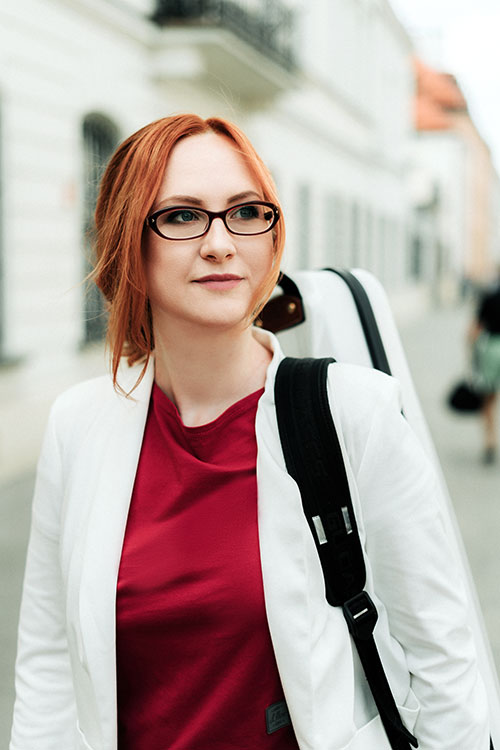 She is the doctor of musical arts who graduated from J. Kukuły-Kopczyński's class at the Grażyna and Kiejstut Bacewicz Music Academy in Łódź. She also studied at the Fryderyk Chopin Academy of Music in M. Marczyk's class (MA), P. Reichert's class (Fryderyk Chopin University of Music – artistic practice) and at the Royal Flemish Conservatoire in Antwerp in L. De Neve's class.
In 2019, she received a scholarship from Polish Minister of Culture and National Heritage.
Aleksandra is the winner of the festival Kammmermusikfestival "Allegro Vivo" in Horn, a finalist of the "Concorso Internazionale 10 Musica da Camera di Gaetano Zinetti" in Verona, as well as a finalist of the 8th and 10th edition of the "Musical Youth Forum" at the Austrian Cultural Forum in Warsaw. Between 2008 and 2010 she won the Rector's Award of the Fryderyk Chopin University of Music in Warsaw. As a chamber and solo musician she participated in festivals such as the 46th Polish Piano Festival in Słupsk, 5th "Music Festival on the Heights" in Zakopane, 29th Musica Polonica Nova in Wrocław, 54th, 58th, 63rd and 65th Musica Moderna in Łódź, 8th Sinfonia Varsovia's "Festival for Its City", 5th Jerzy Waldorff Summer Festival in Radziejowice, Musica Electronica Nova in Wrocław, 5th "Sinfonia Varsovia Concerts on Grochowska Street" Festival, 8th New Town Summer Festival in Warsaw, Sacrum Profanum (2018), Festival of Contemporary Music "Warsaw Autumn" (2018), Afekt Tallin Festival (2018), 14th Svatováclavský Hudební Festival, Prague Clarinet Days (2017).
She played as a soloist with the Philharmonic Orchestra in Gorzów, Radom Chamber Orchestra, InterCamerata Chamber Orchestra, Polish Orchestra SInfonia Iuventus , Orchestra of the Academy of Music in Wroclaw.
In 2001- 2011 she participated in master classes with such distinguished professors as H. Beyerle, I. Wincor, S. Kamasa, E. Rose, J. Kosmala, P. Reichert, W. Kloss, G. Hamann, D. Rossi and Fine Arts String Quartet (courses organized during the 15th Ludwig van Beethoven Easter Festival) and Scharoun Ensemble (scholarship and courses with the musicians of the Berlin Philharmonic during the "Zermatt" Festival in Switzerland (2006).
She gave lecture at the Royal Academy of Arts in Phnom Penh (2016) and during master classes for composers "Synthetis" in Radziejowice (2019).
She was a member of the European Union Youth Orchestra conducted by Sir Gardiner, B. Hitink and V. Ashkenazy in such venues as Concertgebouw, the Royal Albert Hall (BBC Proms, London) and Konzerthaus in Berlin. In the years 2008-2013 she was a full time musician of the Polish Orchestra Sinfonia Iuventus. She collaborates as an orchestral musician with the Warsaw Philharmonic, Polish Radio Orchestra in Warsaw and Gorzowska Philharmonic.
She is a member of Integro Trio, Olympus Mons Trio and String Quartet "Nostadema" with which she performed a numerous world premieres of contemporary Austrian and Polish music as a part of the program run by the Ministry of Culture and National Heritage ("Composers' Commissions") and the Institute of Music and Dance's program "New Interpretations II". Integro Trio and Nostadema Quartet received dedicated pieces from M. Gorecki, P. Łukaszewski, B. Kowalski, S. Kaczorowski and A. Foltyn. She is also a member of the contemporary music group #Ensemble and she collaborates on a regular basis with a clarinetist A. Eljasiński (premiere of the double concertoes by W. Błażejczyk, W. Ratusińska, D. Pajdzik; Polish premieres of works by G. Conneson). Since 2016 she has been a secretary of the board of the Association of Polish Artists and Musicians. Since 2013 she has been collaborating with early music ensembles Sabionetta and La Tempesta.